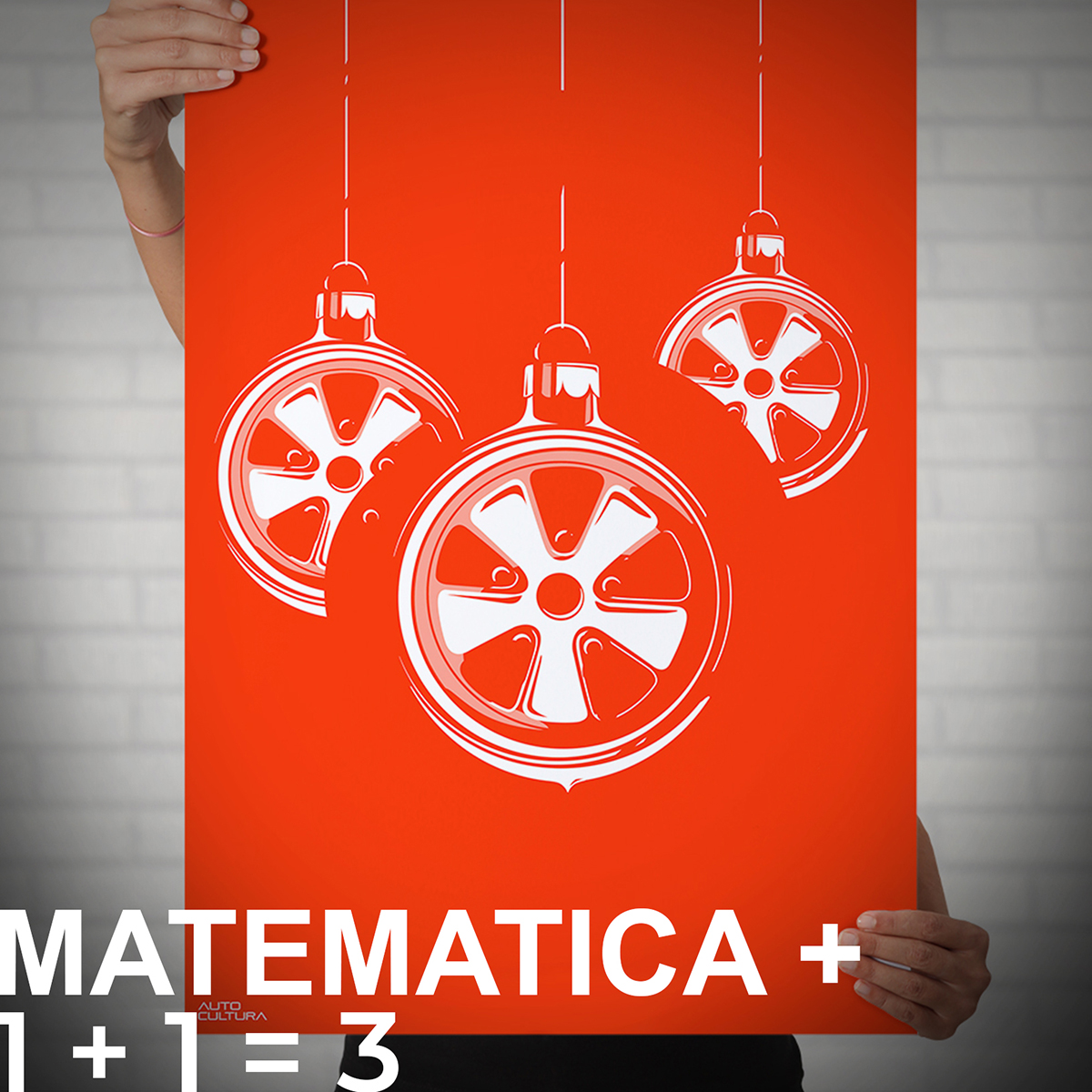 AKTUÁLNÍ AUTOCULTURA SHOP ....
 1.10.2022
MATEMATICA +  is back !
FROM 1.10. - 31.12.2022
Autocultura Matematica + you can't miss it on wall your office, garage or just in your bedroom! Buy 2 posters and you get 1 of your choice for free as a special gift from Autocultura! 
Nemožeš zmeškať Matematica Plus, na stene tvojej kancelárie, garáže ale iba v spálni ! Kúp 2 plagáty a dostaneš 1 zdarma podľa tvojho výberu ako špeciálny darček od Autocultúry !
 Thanks! / Díky !
MICHAL
#Autocultura #xmass #christmas #holiday #love #porsche #356 #911  #poster #print #plakat #plagat #red #white #tree #christmastree🎄 #snowholiday #snow #wheels #christmasdecor #fuchs #porschewheels #red #happynewyear2020🎄 #skodanemitporsche #xmass #matematica #matematicaplus #turboeffect
OBJEDNÁNÍ MAILEM - michal@autocultura.cz
1. VYBER SI PLAGAT A ZVOL ČÍSLO V OBJEDNÁVKE / MAIL   -   SELET POSTER AND NUMBER FOR YOUR ORDER / MAIL
2. MY PRIPRAVÍME FAKTÚRU S PLATOBNÝMI ÚDAJMI  -  WE PREPARE FOR YOU INVOICE WITH PAYMENT INSTRUCTION
3. PO ZAPLACENÍ POŠLEME PLAKÁTY  -  AFTER PAYMENT TRANSFER WE WILL SEND YOU YOUR POSTERS
MOMENTÁLNE PRACUJEME NA NOVOM Eshope. / THIS MOMENT WE WORK ON NEW Eshop.  Coming soon !
CENA 
/ 
PRICE
velikost / size 50 x 70cm    /    CENA - PRICE    890,-Kč /  37,- Euro
PRODUCT INFO

Designed and created by Autocultura / Navrhnuté a pripravené Autoculturou

Comes as a standard sized poster, 50 x 70 cm (19¾ x 27½ inch), framing not included / Dodává se jako plakát standardní velikosti, 50 x 70 cm, rámování není součástí balení.

Printed as a high quality Fine Art print on 200g/m2 czech FOMEI paper / Vytištěno jako vysoce kvalitní umělecký tisk na 200g/m2 českého papíru FOMEI

I sign all posters personally, with numbering from unique 100 pieces from each poster. / Všechny plakáty podepisuji osobně, s číslováním z jedinečných 100 kusů z každého plakátu.

SHIPPING INFO

Posters are rolled in protective tube to ensure their safe delivery to you – wherever you are in the world. Shipping worldwide from Europe.

Plakáty jsou zrolovány v ochranném tubusu, aby bylo zajištěno bezpečné doručení - ať jste kdekoli na světě. Doprava po celém světě z Evropy.

package and post fee EU and World  -  300, -CZK / 12 Euro 


balné a postovné ČR  -  160,-Kč v CR

!!  PURCHASES OVER 100,-Euro / NÁKUP V HODNOTE CEZ 2500,-Kč  :  POŠTOVNÉ / POST FEE   EU   0,-Kč  !!